Wednesday, November 28, 2007
Fifteen Year-Old Gets 60 Years
Skeptical

Brotha
notes that a 15-year old kid was recently sentenced to 60 years in prison.
The details are irrelevant; yes, the crime was
heinous
; but for crying out loud, Sherman Burnett was only 13-years old when he committed the crime.
Why Do Lefties Blog about Matthews???
It seems every day some
lefty blogger
is yakking about something Chris Matthews of "Hardball" said or did.
Based on Matthews
pitiful ratings
, nearly losing to sad Tucker, night in and night out, Howling Latina wishes they'd stop blogging and mentioning his name.
Sure this guy is a first-class sexist idiot with juvenile antics only equal to the Junior-in-chief; and of course, folks only need to recall how last year Matthews was assuring audiences in Cableland that Sen. Jim Webb was a dead-man-walking carcass who would lose to Bubba George Allen.
Only a funny thing happened on the way to the White House. Allen lost, of course.
Yes, the howler can't stand to listen to Matthews when he goes on and on, cutting guests off like the older brother bully he no doubt was to his younger sibling, the ertswhile
Pennsylvania GOP lieutenant governor candidate, Jim
.
But let's face it, buzz only encourages Matthews and MSNBC suits. Talk about irrelevancy of rating numbers!!! Hell, Dan Abrams who only recently returned to cable news is already whipping Matthews's butt.
Stop the presses; quit giving Matthews cyberspace oxygen. Don't comment on ANYTHING he says; and maybe after a few days of empty ether he'll get the picture and go away.
Update: One noteworthy bit of news in light of the subprime lending meltdown, Lil Brother is a
mortgage broker
.
Saturday, November 24, 2007
Bye, bye Howard
President Bush is losing allies, one by one. The luminosity of Bush's coalition partners is down to a fading spark.
In 2004, Spain President Jose Maria
Aznar
was booted out of office; a couple of years later, it was
Italy's Silvio

Berlusconi's

turn
; earlier this year, it was Poland's Jaroslaw Kaczynski and Britain's Tony Blair; and now news organization
report
that one of Bush's remaining allies, Australia's Prime Minister John Howard has been shown the door by voters.
That's right; the center-left Labor Party won a majority of seats on Saturday; and the party's leader, Kevin Rudd, 50, now becomes Australia's new prime minister.
Promising to be the "prime minister for all Australians," Rudd promised supporters that he would "invest in the Australia of tomorrow."
Oh dear....looks like the coalition of the willing may have lost another one to I-Die-wreck.
But Howard's party not only lost control of Parliament, the New York Times reports that "Mr. Howard may suffer the indignity of losing his own seat." He held the seat for 33 years but is on the verge of losing to a "a former television anchor and rookie politician."
He would be the first sitting prime minister to lose his seat since 1929.
Howling Latina supposes Aussies weren't too thrilled with Howard's obeisance at the altar of Bush delusion. No doubt loyal
Repubs
who obstruct every Dem proposal to get the U.S. out of Iraq will suffer similar fates next year -- as well they should.
Illegal Saves Boy
CNN
reports
that a Mexican man illegally crossing the border saved the life a 9-year old boy whose mother recently had died in a car crash.
Jesus Manuel Cordova, 26, of northern Mexico found the boy "looking for help after his mom crashed her van off a cliff south of Arivaca on Thanksgiving Day." Cordova went to the accident site but was unable to pull the mother out of the wreckage; she died shortly afterwards.
Sheriff Tony Estrado told reporters that Cordova remained with the boy and told him that everything was going to be all right."
As temperatures dropped, he gave him a jacket, built a bonfire and stayed with him until about 8 a.m. Friday, when a group of hunters passed by and called authorities, Estrada said.
The poor boy apparently had lost his father only months earlier; the mother and son team had been camping in rural Arizona when the mom lost control of her vehicle.
For his charitable efforts, Cordova was promptly arrested by Border Patrol agents who arrived at the scene. The sheriff, however, gave Cordova his due.
Estrada said Cordova likely saved the boy and his actions should remind people not to quickly characterize all illegal immigrants as criminals.

"They do get demonized for a lot of reasons and they do a lot of good. Obviously this is one example of what an individual can do," he said.
Hmmm, let's see if Lou Dobbs blathers-on about this story on Monday night -- but hold onto your last gasp of Dobbs hot air. In the meantime, Howling Latina thinks CBS features the best
headline
as follows: "Illegal Immigrant Is Boy's Guardian Angel."
Saturday, November 17, 2007
Two New Judges for U.S. District Court of the Eastern District of Virginia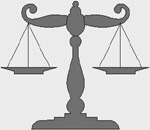 Last spring, Howling Latina
wrote
about the list of candidates Sens. John Warner and Jim Webb submitted to President George Bush for the U.S. District Court of the Eastern District of Virginia vacancies.
And well...sure enough, the howler was dead-on. The judge "known as the 'prosecution team's death penalty expert" got the nod.
The Richmond Times-Dispatch
reports
that "David J. Novak of Montpelier, an assistant U.S. attorney who was a key prosecutor in the trial of Zacarias Moussaoui, was nominated for a judgeship in Richmond." Moussaoui received a life sentence -- but not because Novak didn't try to win a capital murder conviction.
Circuit Judge Mark S. Davis of Portsmouth was also selected. H/L doesn't know a whole lot about Davis -- other than he was endorsed by the Virginia Bar Association, recommended by the Virginia Women Attorneys Association,, and rated "highly qualified" by both the Virginia Trial Lawyers Association and the Virginia Association of Defense Attorneys.
Novak was recommended by VWAA, endorsed by VBA and rated "qualified" by the Virginia Trial Lawyers Association.
Both nominees must now be confirmed by the Senate, but since they have the Warner-Webb seal of approval, the men should have no problem breezing right on through..
Monday, November 12, 2007
"Countdown" on O'Reilly's Heels
Just a quick post until the weekend.
Media Bistro
once again reflects Keith Olbermann's "Countdown" nippng at the heels of Bill O'Reilly in the crucial category of viewers 25-54.
Yep, and poor Tucker has the absolute worst rating -- falling behind CNN low-performer, Glenn Beck.
One point of interest is bloviator-in-chief, Chris Matthews of "Hardball." If he doesn't watch out, he'll soon fall behind Beck.
That's right, Chris, keep talking about Hillary with your macho, chauvinistic patter. Your fastly disappearing audience oh, so absolutely loves it!
Tuesday, November 06, 2007
Senate Finance Committee to Investigate Televangelists
¡Hay Dios Mio. what's the world coming to...!!!
The Senate Finance Committee is set to investigate the lavish lifestyle of five mega televangelists to see if they've been ripping off followers as well as Uncle Sam.
The
St. Louis Post-Dispatch
reports that Joyce Meyer Ministries as well as Creflo Dollar (great name, si?) and his wife, snake oil salesman Benny Hinn of Texas, Eddie Long of Georgia, Ken and Gloria Copeland of Texas, and Randy and Paula White of Florida are all under investigation.
The probe was launched by Republican Sen. Chuck Grassley of Iowa who is quoted by
Radio Iowa
"[s]aying he's responding to complaints and news coverage about lavish lifestyles" and the investigation " has nothing to do (with) church doctrine [and] everything to do with the tax-exemption of an organization."
Is that tax exemption being used according to law, and is the money that's donated under the tax exemption being used for legitimate, non-profit purposes?
A few years ago, Carolyn Tuff of The Dispatch wrote a series of scathing articles about Joyce Meyer but after severe pressure from JMM, Tuff was suspended -- only to be reinstated with back pay after she took the matter to labor arbitration.
Here's The Dispatch's take on the subject:
Meyer, one of America's wealthiest and most powerful TV peachers, was the focus of a 2003 Post-Dispatch series that detailed her lavish lifestyle and blunt fundraising pitches. The stories outlined Meyer's transformation from an abused child to a one-time bookkeeper trapped in a failed marriage and then on to a religious powerhouse whose folksy preachings have worldwide reach.
Truth be told, Howling Latina has very mixed feelings about Joyce Meyer -- to the extent she dedicated one of her graduate nonfiction papers on her ministry. You see, when the howler was married to her alcoholic hubby, she came across Meyer's "Life in the Word" (as her show was called back then) by sheer accident and Meyer had spoken directly to the camera as if talking straight to her with that uncanny ability she has to know what the audience is going through since forever.
Both Meyer and Dollar preach the gospel of prosperity -- heaven on earth for those who are faithful. And when Tuff asked Meyer about her expansive home, private jet, fancy jewelry and so on, Meyer responded that yes, God had made her rich in Christ. Or as
The Washington Post
writes, "[H[er accouterments, including multimillion-dollar homes and luxury cars, [were] blessings from God."
Now you may call HL a dupe, but she can see how that might happen; in fact, she's testing Meyer's premise with her life right now. In the meantime, there is comfort to be found in the gospel and a personal relationship with God, no matter what.
As to phony faith healer Bennie Hinn who promotes his healing power on cable television, any scrutiny he gets is well-deserved and then some. Also, you may recall from an earlier
HL post
, Rev/Bishop/Charlatan Randy and his little missus are in Splitsville.
On a Quest...
Howling Latina will be light posting -- or not at all. She's on a quest for the next few days but not before she lends a hand to Jeanette Rishell's campaign to try to get out the Latino vote in Manassas.

Here's to victory for the Dems in Virginia today.

It's Official -- Almost --MSNBC Will Listen
It's almost official, MSNBC will listen to Howling Latina and give the boot to Tucker Carlson and bring shows to MSNBC of like-minded spirits as Keith Olbermann of "Countdown."
The New York Times
reports today that MSNBC is now looking "to showcase its nighttime lineup as a welcome haven for viewers of a similar mind."
Lest there be any doubt that the cable channel believes there is ratings gold in shows that criticize the administration with the same vigor with which Fox News's hosts often champion it, two NBC executives acknowledged yesterday that they were talking to Rosie O'Donnell about a prime-time show on MSNBC.
Now cable viewers may recall the calamity that was Rita Cosby when the suits at MSNBC brought her from Fox News and had her and Tucker from 9:00 PM to 11:00 PM every weekday.
The howler is not at all sure O'Donnell would be the best person for the time slot, especially when measured against someone like, oh, say David Shuster. However, as she wrote back in
June 2006
, pairing Ron Reagan with Monica Crowley and adding Tucker and Rita to their stable of evening program hosts was disaster in the making.
The top two cash cows at MSNBC are "Countdown" and "Hardball, two shows with a progressive or centrist host, although Howling Latina has to acknowledge MSNBC keeps the righties under a tight editorial gridlock; no outlandish lies or spin allowed of the Hannity and O'Reilly variety.

Call me loony, but if I were trying to establish a new brand with loyal viewership, instead of trying to outflank Fox and their wingnut audience, HL would go after all the lefties in Cable-land; once word got around the liberal blogosphere, MSNBC's ratings would skyrocket.
So, almost a year and half later program executives have finally chanced upon something so simple and evident they had to be dragged by their nose, screaming and wailing. Well, here are a few words from the prescient
Howling Latina
on the subject over a year ago:
MSNBC need[s] to stop trying to be like Fox and mold their own brand ALA Keith Olbermann's "Countdown."
And some more words of wisdom from yet another post:
It seems like only yesterday when Rita and Tucker were bloviating on MSNBC at 10:00 p.m. and 11:00 p.m.

Their ratings were nothing to brag about, though, so Rita was yanked, Tucker was moved and in came two full hours of "Investigation."

[...]

If MSNBC had a brain cell inside their corporate brain, they'd hire lefties for the 6:00 and 10:00 p.m. slots, for sure.
It's not rocket science, folks. Olbermann's left bent "helped increase the ratings of his program by 33 percent in just the last year."
Geez, whodda thunk it?
Sunday, November 04, 2007
BARACK OBAMA OPENS SATURDAY NIGHT LIVE
This is the absolute best!!! All the Democratic presidential candidates make an "appearance" as well as Bill Clinton.
Saturday, November 03, 2007
Death of Capital Punishment???
Recent court decisions have effectively halted executions in the United States. However, it's just a matter of time before the U.S. Supreme Court rules on the issue of lethal injection, states adopt new measures to comport with their ruling and the death gurneys sally forth again.
Nonetheless,
The New York Times
has an interesting article about the exorbitant cost to prosecute capital murder cases and how the cost may do what thousands of vigils and letter writing by abolitionists have been unable to do: stop state sanctioned killing.
It seems that with litigation expenses rising as high as $1.2 million or more, "many experts predict that the cost issue will have far broader implications for the future of the death penalty" than any constitutional claim of cruel and unusual punishment.
States unwilling to pay the huge costs of defending people charged in capital cases may be unable to conduct executions.
That's right; equal justice under the law demands that states provide adequate resources for a robust defense. And "[s]tates unwilling to pay the huge costs of defending people charged in capital cases may be unable to conduct executions."
"This is the way the world, ends," the famous poet T.S. Eliot once wrote. "Not with a bang but a whimper." And so it might be that capital punishment enters the relic of anti-sodomy laws into America's shameful legal past.