Saturday, November 17, 2007
Two New Judges for U.S. District Court of the Eastern District of Virginia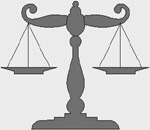 Last spring, Howling Latina
wrote
about the list of candidates Sens. John Warner and Jim Webb submitted to President George Bush for the U.S. District Court of the Eastern District of Virginia vacancies.
And well...sure enough, the howler was dead-on. The judge "known as the 'prosecution team's death penalty expert" got the nod.
The Richmond Times-Dispatch
reports
that "David J. Novak of Montpelier, an assistant U.S. attorney who was a key prosecutor in the trial of Zacarias Moussaoui, was nominated for a judgeship in Richmond." Moussaoui received a life sentence -- but not because Novak didn't try to win a capital murder conviction.
Circuit Judge Mark S. Davis of Portsmouth was also selected. H/L doesn't know a whole lot about Davis -- other than he was endorsed by the Virginia Bar Association, recommended by the Virginia Women Attorneys Association,, and rated "highly qualified" by both the Virginia Trial Lawyers Association and the Virginia Association of Defense Attorneys.
Novak was recommended by VWAA, endorsed by VBA and rated "qualified" by the Virginia Trial Lawyers Association.
Both nominees must now be confirmed by the Senate, but since they have the Warner-Webb seal of approval, the men should have no problem breezing right on through..