Sunday, September 14, 2008
Brownies in the Making...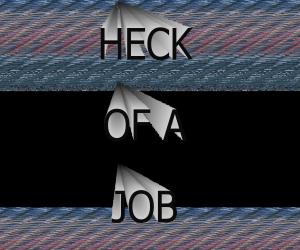 Howling Latina didn't have a chance to read yesterday's
New York Times
article about
Palin's
exclusive public service program for friends. Perhaps a little late but worth a post.
It seems Palin offered jobs to pals who had no visible qualifications for state jobs and fired perceived enemies.
"Throughout her career, Ms. Palin has pursued vendettas, fired officials who crossed her and blurred the line between government and personal grievance," Times writes, although their initial example of the inside hook-up is not the best in the bunch.
You see, Times hints at the relative inexperience of a
Palin
school chum and former real estate agent who now runs the Division of Agriculture with a $2 million budget and singularly lists for readers "her childhood love of cows" as her avowed qualifying measure, which is not exactly
true
since
Franci
Havemeister's
husband comes from a line of dairy farmers and surely she picked up
somethin
' of use to her professional duties during routine family conversations with hubby and in-laws.
Franci

was fascinated with farms and particularly milk cows as a young person. After moving to the valley with her folks, she was immersed in a community filled with many farm families. Not surprisingly her fascination with cows and farms eventually introduced her to her future husband, the son of dairy farmers.

Franci

has seen, first hand, the challenges that Alaska dairy farmers experienced and wanted a change - a good and positive change. One where farmers not only made a descent living, but were respected for their hard work, knowledge and contribution to the social and economic fabric of Alaska.
Moreover, although a whole $2 million may sound like a lot, when you consider it only takes
one house
sale every month or so to rack up annual revenue of $2 million or more, the agency's budget doesn't loom as menacingly huge.
But the article does cite a number of troubling examples of nepotism; and a certain pettiness and peevishness on the part of Ms.
Palin
that reminds
HL
of the current occupant in the White House. Professionals getting canned at will and incompetent lapdogs taking their place.
The

Wasilla

High School yearbook archive now doubles as a veritable directory of state government. Ms.

Palin

appointed Mr.

Bitney

, her former junior high school band-mate, as her legislative director and chose another classmate, Joe

Austerman

, to manage the economic development office for $82,908 a year. Mr.

Austerman

had established an Alaska franchise for Mailboxes Etc.
Just a small town girl in a big, big world bringing trusted friends along for counsel and security, except after everything this country has gone through with Bush lapdogs and
Rovian
maneuvers, this little bit of news does not endear Ms.
Palin
to the howler.
In 1997, Ms. Palin fired the longtime city attorney, Richard Deuser, after he issued the stop-work order on a home being built by Don Showers, another of her campaign supporters.

Your attorney, Mr. Showers told Ms. Palin, is costing me lots of money.

"She told me she'd like to see him fired," Mr. Showers recalled. "But she couldn't do it herself because the City Council hires the city attorney." Ms. Palin told him to write the council members to complain.
And sure enough as the story notes, poor Mr.
Deuser
soon got the ax. How barracuda-like endearing...