Wednesday, April 09, 2008
The Edwards Endorsement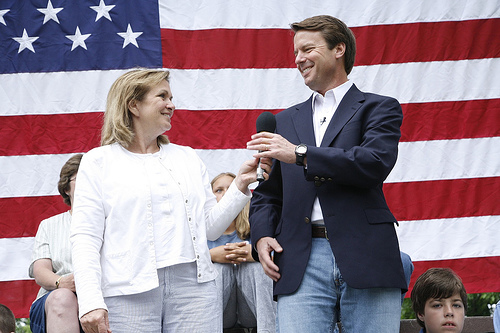 Back in March, Richard Stengel of Time
volunteered
on the "Chris Matthews Show" that Edwards would be endorsing Hillary Clinton before the North Carolina primary.
Today, the same Time by way of
Swamp
reports that Elizabeth Edwards joined that the Center for American Fellow as a "senior fellow."
CAP, which was founded by former Clinton White House chief of staff John Podesta, has been operating for the past two years as a kind of Hillary Clinton Administration-in-waiting.
What a delicious coinkydink.
On "
Good Morning America
," Elizabeth "defended her surprise support" of Hillary's health care plan over Obama's; and although Elizabeth refused to formally endorse Hillary for president, reading the tea leaves one more time, she argued Hillary's position of "letting the race end at the convention."
"I don't actually think it's a bad idea to have an open convention, where we actually got to hash out what the differences [between the candidates] were and how important they are," she said.
Yep, add Sen. John Edwards by way of Elizabeth to the Jim Webb/leaning Hillary column.