Saturday, October 06, 2007
Congresswoman Jo Ann Davis - RIP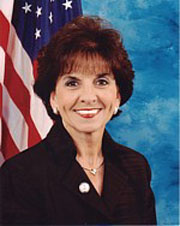 Congresswoman Jo Ann Davis passed away this morning, the Associated Press via the
Washington Post
reports.
The news clip highlights Davis's career. She introduced legislation in Congress that "increased the life insurance benefit paid to survivors of military members killed on duty."
The article unfortunately also claims that she was "Virginia's first woman elected to Congress in 2000." This assertion is incorrect. Leslie Byrne, a Democrat, was
elected
to the House in 1992.
Democratic Gov. Tim Kaine helpfully clarifies via
Daily Press
.
"Congresswoman Jo Ann Davis made history when she became the

first female Republican

elected to the House of Representatives from the Commonwealth in 2000.
Even though Howling Latina tried to help elect Shawn O'Donnell in '06, she always felt that at least Davis didn't belong to the batwing faction of the Republican party. Davis could be an independent voice, breaking from party dogma on issues of health care.
As HL noted in an earlier
post
this year, Davis, who was her representative in Congress, voted for the Medicare Prescription Drug Price Negotiation Act; she also "introduced a bevy of
bills
in the 110th Congress that 'cover[ed] a wide range of issues including the health care, national security, veterans, first responders, interstate waste, and Native American recognition.'"
Gov. Tim Kaine issued some kinds words about her.
"She inspired Virginians as she battled breast cancer while continuing to serve the commonwealth," Gov. Timothy M. Kaine, a Democrat, said in a statement.
Kaine will have to set a date for the special election to fill her seat. A logical choice would be Nov. 6, when Virginians go to the polls to elect the Geneal Assembly; however, under Virginia law, if he chooses another date, citizens will have to wait at least 30 days thereafter.

Davis is survived by her husband, two sons and a granddaughter.