Monday, August 27, 2007
Craig Busted for Lewd Behavior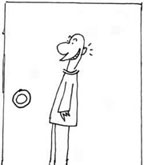 Back in June, Howling Latina
posted
about the rumors that Sen. Larry Craig, R-Idaho, was gay. Well, rumors no longer, it's now documented.
The Washington Post
and other media is reporting that Craig was arrested in June for lewd behavior in the men's bathroom at Minneapolis-St. Paul International Airport.
According to the police report, the undercover officer set up his position in the restroom at noon on June 11. A few minutes later, Craig entered and sat in the stall next to him. Craig began tapping his right foot, touched his right foot to the left foot of the officer in the stall next to him and brushed his hand beneath the partition into the stall next to him. He was then arrested.

While he was interviewed about the incident, according to the police report, Craig gave police a business card showing he was a United States senator. "What do you think about that?" Craig asked the officer, according to the report obtained by Roll Call.
Since then, Craig pleaded guilty, was fined $500 and placed on probation for one year.
But...it was all a big misunderstanding, according to Craig. And darn it, he should've never agreed to plead guilty to the false charge in the first place.
Update: Can't help but wonder if Craig's
vanishing support
with Idaho conservatives in June had more to do with his arrest than his immigration stance.
Comments:
I recently came across your blog and have been reading along. I thought I would leave my first comment. I don't know what to say except that I have enjoyed reading. Nice blog. I will keep visiting this blog very often.
Sarah
http://adoptpet.info
Post a Comment
<< Home