Monday, May 29, 2006
Our Veteran Heroes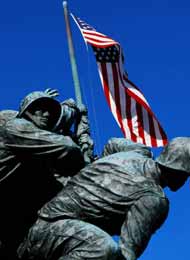 This weekend Americans honored their veterans from past and current wars; the men and women who answered the call to duty and country, no matter what other priorities they may have had.
The fallen in Iraq
total
at least 2,485 American soldiers; and at least 18,184 soldiers have also been wounded.
Today more
carnage
from Iraq visited three journalists, killing two of them; a U.S. soldier was killed as well.
Since the start of the Iraq War, more journalists have died in the conflict than in the 20 years of the Vietnam strife.
Mr. President, I hope you can sleep well; you too, DICK!
Comments:
Howling Latina: I need your email address so I can email you a picture. Please contact me at imorroyatyahoodotcom
Post a Comment
<< Home