Tuesday, April 04, 2006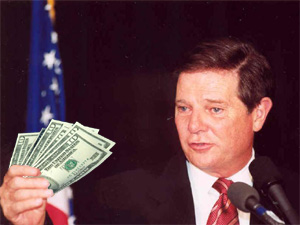 DeLay's Mug Picture is the full embodiment of Christ?!?
Listening to Stephanie Miller on Air America, the latest shameless spin from Tom DeLay reached a new apogee of disgust. To profess the Lord spoke to you after you have blood on your hands is a desecration of the sacred; a profanity to all that is holy.
In the Bible Jesus went to the temple not to try to nab some cash from the Pharasees but to chase the Tom DeLays of his time; the moneychangers who sold and bought and used the Lord house to boost their riches.
So when Joe Scarborough dumbfoundedly asks, "What brought DeLay down?!? It's real simple, Joe. It's the corruption; and no amount of
fasting
is going to wash the stench from DeLay and the GOP's culture of corruption.
Besides, it's not like DeLay looks as if he's missed too many meals lately.